Our most popular sections on this site are serial number age decoders for Water Heater brand listings, and for HVAC related equipment (Furnaces, Boilers, Air Conditioners, & Heat Pumps).  Each directory lists brand names alphabetically.  To find a specific brand, please do the following:
Go to the appropriate HVAC directory or Water Heater directory depending on the appliance type.
Select (click) the letter the brand in question begins with.
A drop-down list of available brand names beginning with that letter will appear.
Select (click) the specific brand name in question.
The selection will take you to that specific page where one or more examples of serial number styles will be listed on information slide images.
This site provides examples of manufacturer serial number styles.  These are ONLY examples!  YOUR actual serial number will differ from the provided examples!  Your actual serial number can be compared to similar styles represented on our site to help you determine the date of manufacture.  In other words, the included examples are intended to help you decipher the actual number off your HVAC or Water Heater data tag and will not be an identical match number for number, letter for letter.  These examples are listed in slide images on the appropriate pages.  Many brand pages will have MULTIPLE STYLES listed.  Please be sure to scroll through ALL style examples provided to find one that most closely resembles your actual serial number.
FAQs & Helpful Tips:
If you only see IMG placeholders, or do not see the images of example styles and example data plates on a page, it is likely your web browser or antivirus software security settings are blocking or preventing them from appearing, or the page did not load correctly.  Try refreshing the page or modifying your system/browser settings.  Many brand pages will have MULTIPLE STYLES listed.  Please be sure to scroll through ALL style examples to find one that most closely resembles your actual serial number.
Data tags/plates will be found in a VARIETY of locations on the unit and will vary by manufacturer.  In other words, they can be located ANYWHERE and on ANY part of the unit.  Most common locations include:
- - on the outside of the unit cabinet, case or housing,
- - below the brand name plate,
- - inside service compartments,
- - on the back side of a service access cover.
Example: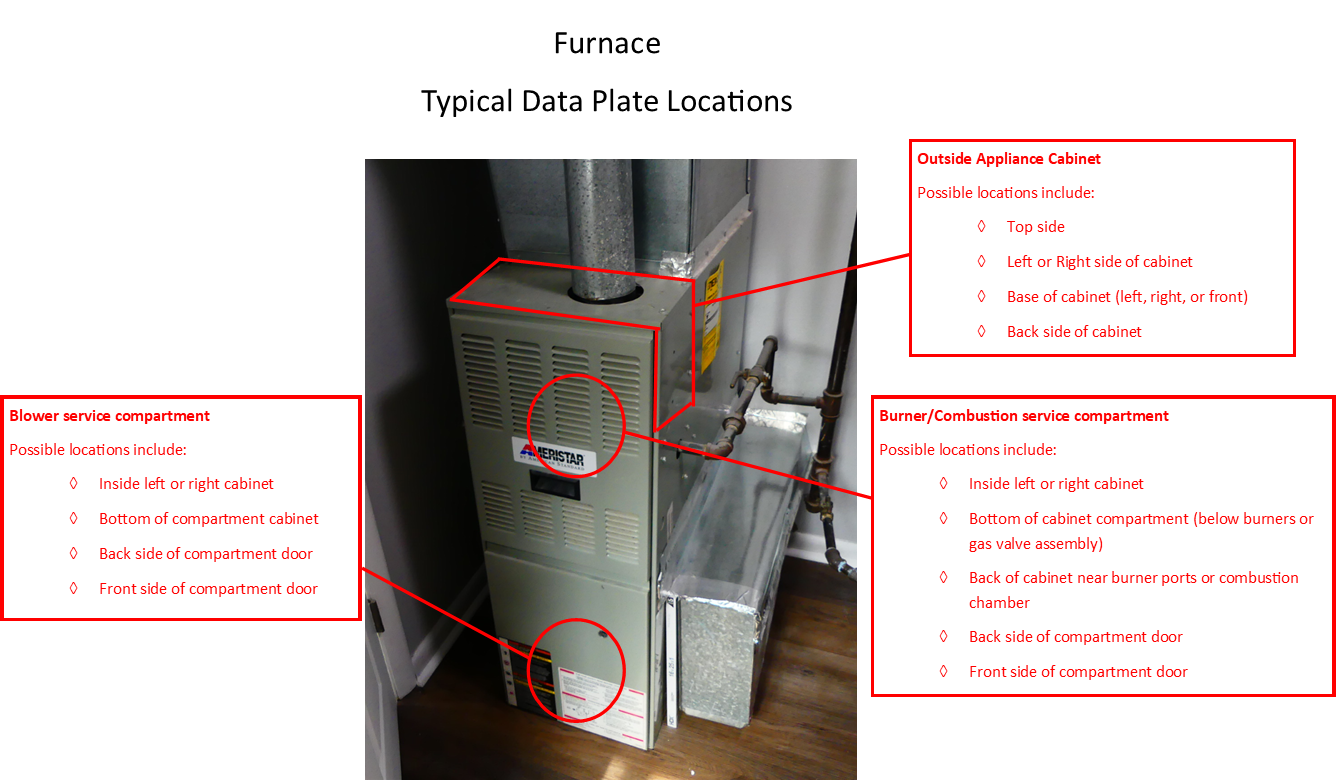 Occasionally, the model number and serial number are placed in different (separate) locations and will require a bit of looking or investigation to find both (older Lennox systems commonly did this with a separate small tag for the serial number). We cannot feasibly identify precisely where every data tag, serial number, or model number will be located on every unit for every brand.  If you require assistance locating the data tag or its information provided, PLEASE CONSULT WITH A LOCAL CONTRACTOR or INSPECTOR.
Many manufacturers are now specifically including the date of manufacture stamp on newer units as part of the data plate information, or will explicitly indicate where in the serial number that the manufacture date is represented.  Please be sure to look for these indications on the data tag when recording the model and serial numbers... It may save you a LOT of time!
We have included most serial number style examples for any particular brand that we are currently aware of.  We continue to update this site with new information as it becomes available.  Over the years many brands have consolidated or merged with other manufacturers...
some multiple times over.
  As well, many brands are manufactured by one or more other companies at various periods of their existence.  As such, the serial coding style may resemble that of another brand name who actually manufactured the unit.  We have tried to indicate known parent companies on our pages and information slides, but it is difficult to stay abreast of industry or corporate changes, consolidations, and mergers.  Many of our pages have "History" information included that may assist with your research.  We recommend researching serial number styles of other related brands or the "
manufactured by...
" name indicated on the data tag if your style has not been represented in our examples on the actual brand page.  If you have researched thoroughly and discover we don't have your style listed, chances are
GREAT
that we
DON'T
have any information to assist you with. But if you have the full brand name, serial number
AND
model number, we may be able to find the approximate year of manufacture through our personal research.  We don't make
ANY
promises or guarantees that we can assist you, but you can submit a
help request
through our website.  This of course requires time and effort on our part beyond the wealth of information we have already freely provided on this site.  As such, a small fee for our personal research time into your query is required. We also recommend that you provide us with clear photos of the full data plate and unit itself.
If the data tag is missing, cannot be located, or portions of it are illegible, it typically becomes a "best guess" scenario.  Sometimes the range of years a particular model was manufactured can be determined through the model number if it is available.  This requires further research through industry specific publications such as Preston's Reference Guide, Carson-Dunlop Technical Reference Guide, Industry manuals we have accumulated which may no longer be in publication, and/or research through the particular company technical help/customer services or website (if available and if the company still exists).
If both the model and serial number are not legible or cannot be located, one may be able to determine approximate date of manufacture from internal components such as blower motors, circuit boards, gas valves, compressor, etc.  Sometimes these may have a date stamp or tag indicating their date of manufacture which should closely match the overall date of manufacture... but may simply reflect the date that certain component was replaced. We have an additional tip resource page for these and other ways to estimate the age of a system HERE
Documents (if available) such as bills of sale, owners manuals, and service records may also help determine approximate year of manufacture or year of installation.  The age of some very old systems often may only be determined through original company records such as bills of sale, purchase order numbers, etc.  With luck, and if the company is still in business, one may be able to contact the company directly for assistance.
If all else fails, one may need to make a "best guess" based on the condition and appearance of the unit.  Sometimes muted or drab colors of the unit such as light blues, greens, and browns can help determine an era of manufacture as these were common colors used during the 1950's into the late 70's and early 80's... but this is not a reliable method of determining age.  Regardless, if the unit appears aged, neglected, or in disrepair, it likely is and may be a good candidate for upgrade to a more efficient unit design of current manufacture.
If you can't find the manufacturer or brand name plate, try looking on the data tag again for this information.  Sometimes a "Manufactured by..." or "Manufactured for..." or similar verbiage is listed in smaller print on the date tag. If the brand or manufacturer name simply cannot be located, try an internet search with the model number. We find just the first few characters (first 5-6 characters or so) works best for this method.  This often returns search results revealing the manufacturer or related brands that offer the particular series or model.
This information is often incorporated into the model number.  While not always the case, typically the rule of thumb is to look for two consecutive numbers within the model number that are divisible by 6.  Dividing this number by 12 will provide an approximate tonnage size of the air conditioner or heat pump.
For example...  A Ruud air conditioner model number of UAMB-024JAZ  indicates this unit is a 2 ton capacity.
In this example (UAMB -024JAZ), 24 is the first number divisible by 6.  Dividing 24 by 12 equals 2 or 2 tons.
Similarly, a model number of UAMB-036JAZ indicates the capacity is 3 tons (36 divided by 12).
A sample model number of UAMB-030JAZ would indicate the capacity is 2.5 tons (30 divided by 12).
Sample model numbers of UAMB-048JAZ or UAMB-060JAZ would indicate 4 and 5 ton capacity respectively.
Again while common, this isn't always the case or the most accurate method.  Additionally, some manufactures will include several more numbers in the actual model identification, proving difficult to determine which set of numbers actually indicates the size or capacity.  Each manufacturer will have a unique and proprietary numbering system for model and serial identification.  If you need assistance determining or confirming the capacity of your HVAC equipment or matching the capacity with the size of your home or commercial building, please consult with a LOCAL and experienced contractor, service provider, or the manufacturer directly!  We will NOT assist you with this.
We have additional hints and tips for estimating the age of systems at our Hints & Tips page.
This website lists numerous HVAC manufacturers by brand with some known information, history, and available contact information.  You can find this information listed alphabetically at our HVAC manufacturer info pages.
Many manufacturer websites offer free downloads for user manuals, owner manuals, installation/parts manuals, and related diagrams listed by model number or type.  We encourage you to research your needs further with the particular manufacturer by visiting their respective website or contacting them directly. 
If you need assistance with repairs, upgrades, service, sizing, or finding replacement parts, PLEASE contact a local repair provider, service contractor, or the manufacturer directly! 
While we appreciate the confidence,
We CANNOT assist you with this

.
Excellent!!!  We appreciate all the help and assistance we can get to maintain an accurate site!  Please
contact us through our web form
and include a brief note of what you have.  We will reply and request any further information that you may have so we can update our site.
Ads stink and distract from the user experience. I despise them as much (if not more) than you, but they help us pay the bills here at Building-Center.org so they became a necessary evil.
Many of you have donated to our cause in the past and continue to donate! We greatly appreciate everyone's support both small and large, and it helps immensely! But it simply wasn't enough. The answer was to deploy Ads to help offset our personal costs in running and maintaining this site.
Numerous notable colleagues and inspectors have expressed over the years that we should turn the site into a "members only" access, and offered a variety of membership fee suggestions (typically far greater than the fees we currently ask). So... In an effort to improve the user experience without negatively impacting revenue from the ads, we have taken some of their advice and deployed ad-free membership options. We believe these to be very reasonable and inexpensive membership fees, and are continuing to add content and numerous exclusive benefits to the membership levels that will more than offset the meager fee.
You can read more about membership options HERE
Absolutely!  Continued donations also help us to maintain this site and keep it open for Free Access. Please go to our
Donate page
for more information on how you can support the site.
Absolutely! We apologize that you are experiencing such issues. Bugs happen from time to time. A very small number of users experience these problems often related to site caching and cookies, or simply the automated registration emails going to spam folders.  Please reach out to us from our
contact page
, and we will try to sort things out for you!
First and foremost, THANK YOU for your voluntary donations and support of this site.  It would be our pleasure to add you to the membership!
Please reach out to us from our contact page, and we will work on getting you registered!
Great! We would love to hear from you!  Begin by reaching out to us from our
contact page
, and we will be in touch!