Aire-flo®
How to determine the date of production/manufacture or age of Aire-flo® HVAC Systems.
The date of production/manufacture or age of Aire-fl0® HVAC equipment can be determined from the serial number located on the data plate.
Parent:  Lennox
Aire-Flo is a Lennox trade name for use on thier "economy" line of products. Air-Flo serial numbers will follow Lennox serial number styles.
Sister or similar Brands Include: AirEase® | Airease-Johnson® | Aire-flo® | Allied-Commercial® | Armstrong Air® | Concord® | Ducane® | Lennox® | Magic-Pak®
Example serial number styles/formats found:
Style 1:  1606B13871
Description: Ten (10) character Serial number begins with four (4) numerical digits followed by one (1) letter and ends with five (5) numerical digits.
Year of manufacture is 3rd-4th character numerical digits
Month of manufacture is 5th character letter digit (See chart below).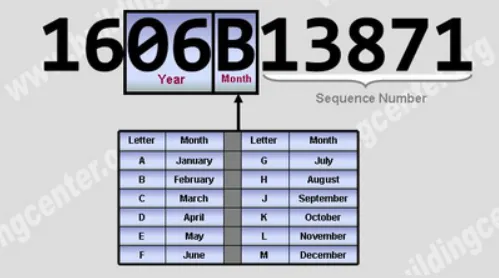 Page last updated: 13 Sep 2015