Bradford White® Water Heater Age
The date of production/manufacture or age of Bradford White® Water Heater(s) can be determined from the serial number.
Bradford White® utilizes a rotating 20 year letter cycle (e.g., the letter "M" represents both 1995 and 2015 year of manufacture).
Please note that it is common to encounter a Bradford White® water heater that may outwardly appear to be either year designation. In order to accurately determine which 20 year cycle the letter may represent, one must also look at other determining factors.
The ANSI code date is the most common key indicator to assist with this determination (see our sample style 1 photo below). In the photo example below, the letter "D" represents both 1987 and 2007. The ANSI code date indicates compliance with ANSI Z21.10.1a-1985. 1985 is the year revision for ANSI Z21.10.1a This code is typically revised every 6-8 years, which indicates two common sense considerations...
1. This water heater cannot have been manufactured prior to 1985.
2. This water heater is more likely to have been manufactured in 1987 (within 6-8 years of 1985 code revision) as opposed to 2007.
In absence of the listed ANSI year revision, one must rely on other factors or clues including but not limited to: physical appearance, dates on the building or health department (authority having jurisdiction AHJ) inspection tag or sticker, service tags (if present), age of the structure it is installed in, and simple common sense.
Serial number styles/formats found are:
→Style 1:  DG6322957
→Style 2:  OA822685 (Unique computer error serial number beginning with the letter "O").
Legend:  Year is RED;  Month is GREEN; Week is BLUE
---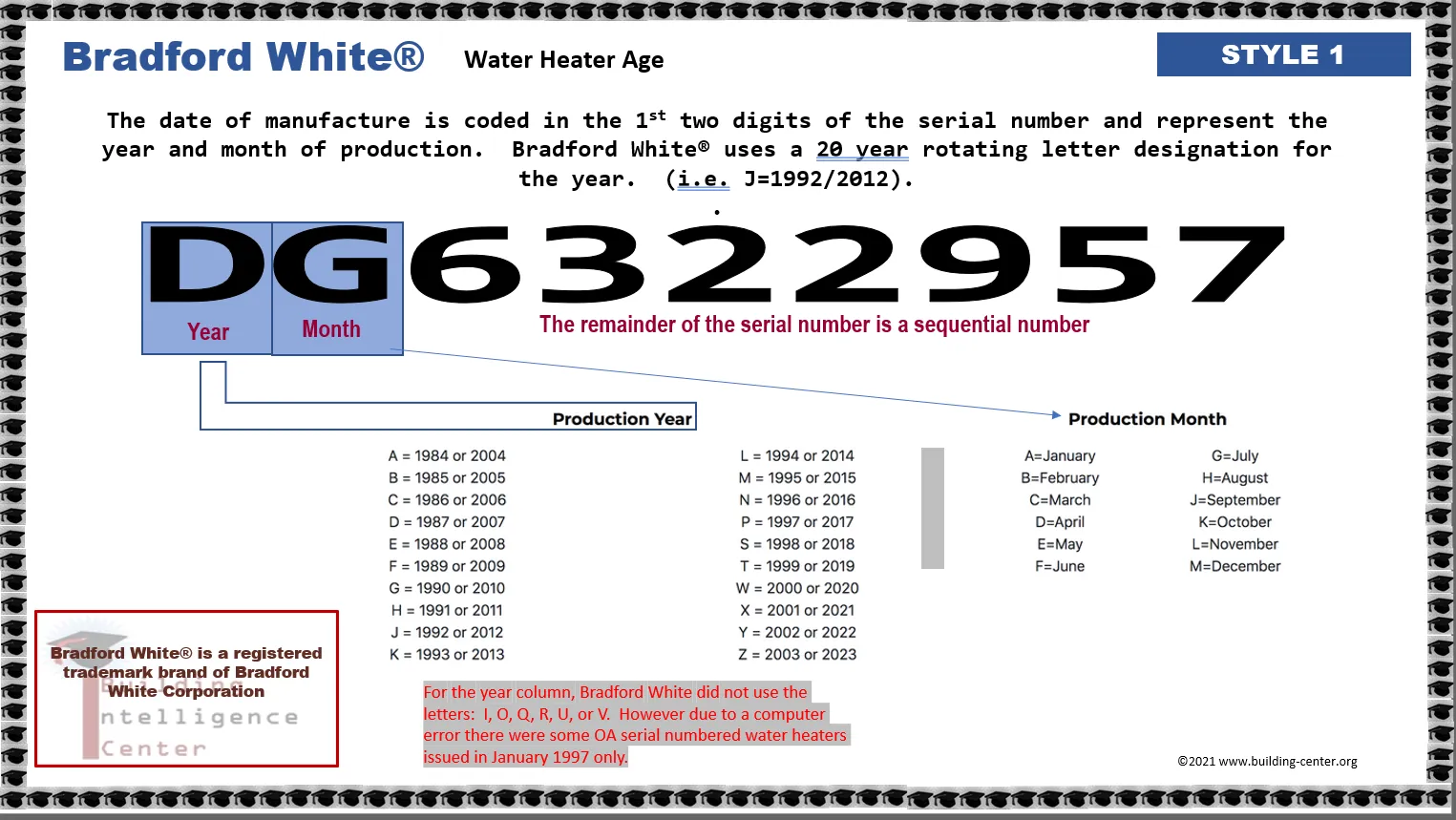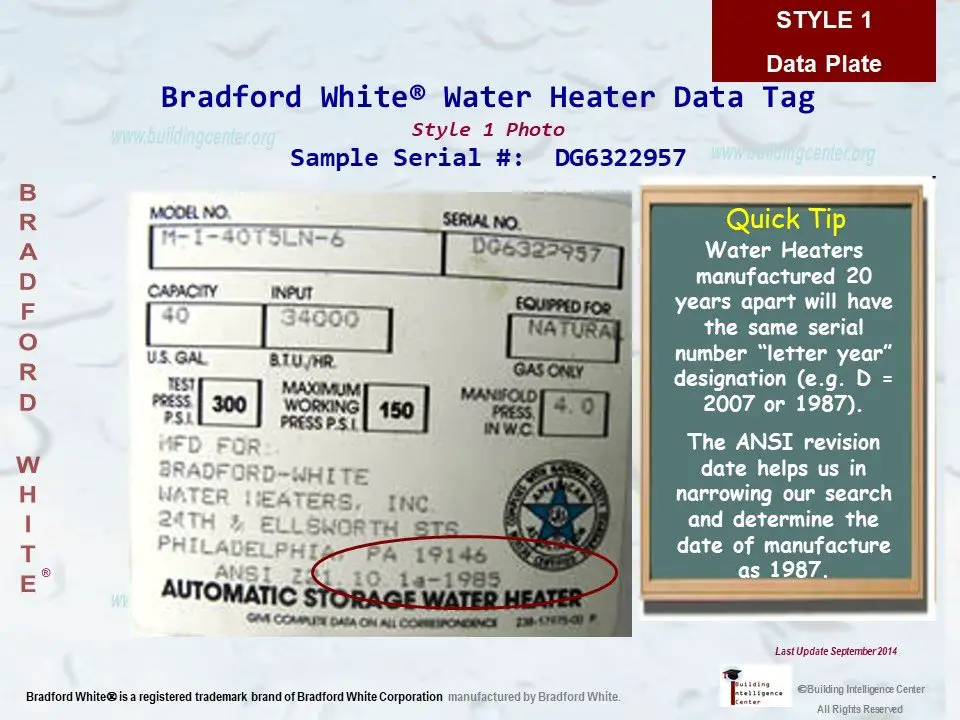 Style 2: O

A

822685
Due to a computer error there were some Bradford White® Serial Numbers that began with the letter "O" which were mistakenly released into the market. ("O" as well as I, Q, R, U, & V were otherwise not used as part of their serial number nomenclature system) .
  Should you encounter one of these rare unicorns... These units were manufactured only in January, 1997.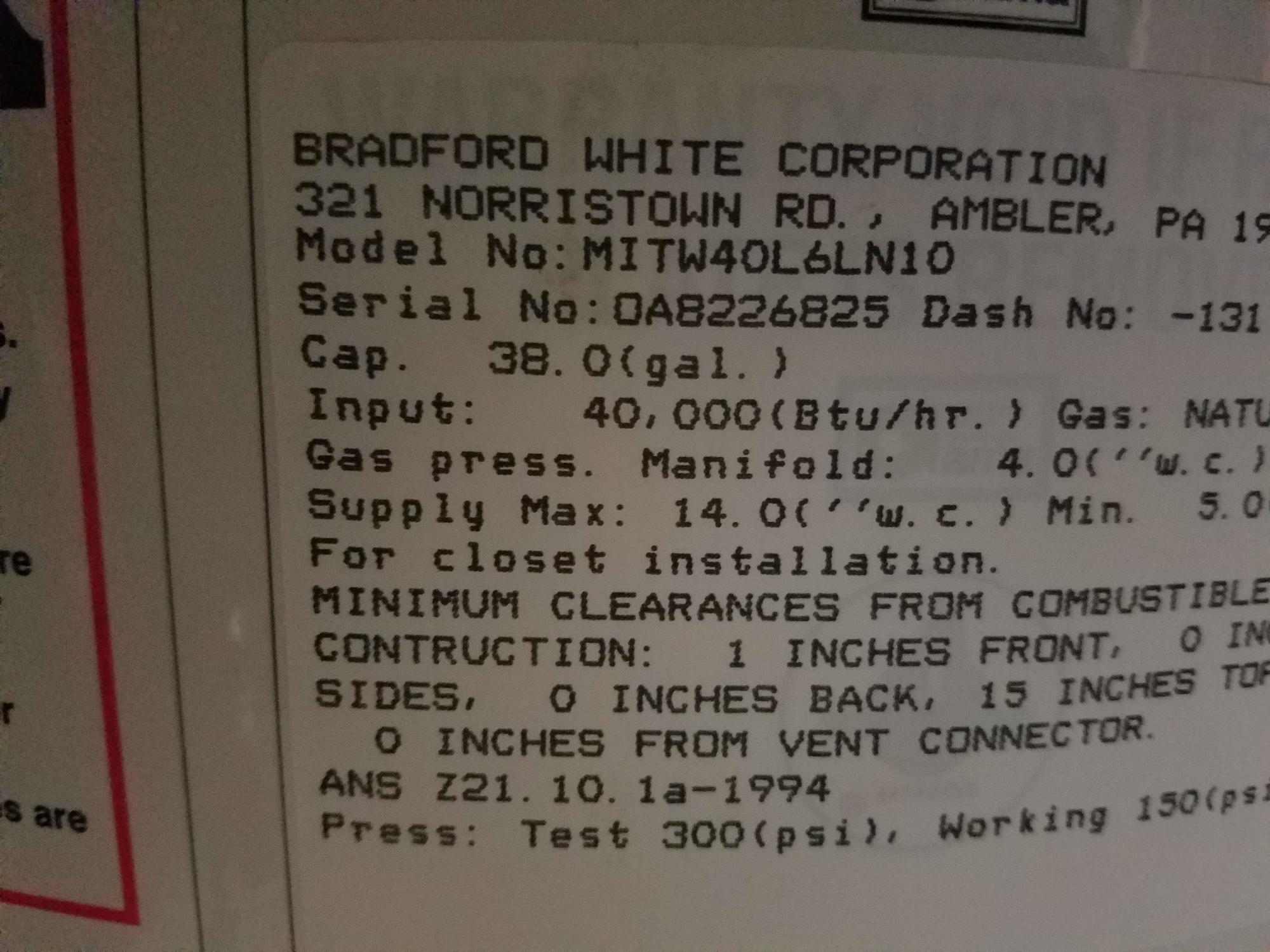 Bradford White® History¹
1881 - Began as Pennsylvania Range Boiler Company
1959 - Company reorganized under new name: The Pennsylvania-Bradford Appliance Corporation
1968 - Merger between Pennsylvania-Bradford and White Products of Middleville, Michigan under new company:  Bradford-White Corporation
1992 - Becomes employee owned Bradford White
1995 - First in industry to increase tank warranty to six years
1998 - First in industry to make six year parts warranty standard on all residential water heaters
2002 - Bradford White purchases Niles Steel Tank Company (Niles, Michigan) and Aero Environemental Ltd. (Canada)
2003 - Introduces FVIR compliant Defender Safety System® technology
2004 - Introduces EverHot® line of tankless water heaters
2005 - Purchases Laars Heating Systems (Rochester, NH) to further expand plumbing and HVAC offerings
¹Excerpts from https://www.bradfordwhite.com/timeline
Every effort is undertaken to offer you correct and concise information to assist you in determining the age or manufacture date of water heating equipment. Users relying on this information do so at their own risk.