The date of production/manufacture or age of Clark® Water Heater(s) can be determined from the serial number.
Serial number styles/formats found are:
Style 1: 7X60633
---
Style 1: 7X60633
Unfortunately we are unable to determine the date of manufacture or age of these units. Perhaps you can assist us in our research with additional information.
Email us at [email protected]
Research Notes:
The McGraw Electric Company was a US manufacturer of electric appliances founded by Max McGraw in 1900. It grew through mergers and acquisitions to become a major enterprise. The best known product may have been the Toastmaster pop-up toaster. In 1957 McGraw Electric merged with Thomas A. Edison, Inc. to form McGraw-Edison.
McGray Electric acquisitions included Clark Water Heater Company in 1927.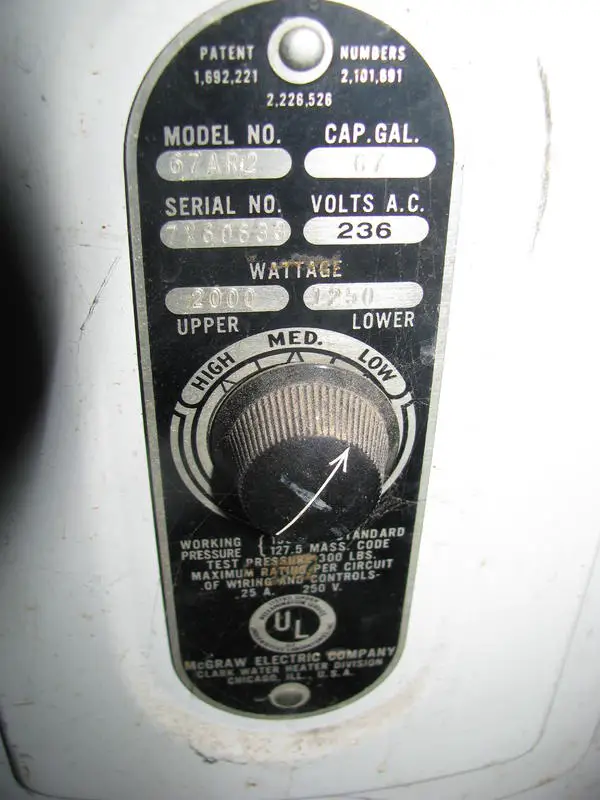 ---
Every effort is undertaken to offer you correct and concise information to assist you in determining the age or manufacture date of water heating equipment. Anytime anyone is dealing with numbers and letters in determining data, mistakes and misinterpretation are bound to happen. For this reason if you find during your research that we may have erred please contact us. In addition perhaps you have come across a brand, model or serial number format that we have not addressed. Email us with your concerns or new submissions. Please include all pertinent information including clear and legible pictures of data/nomenclature plates.