How to determine the date of production/manufacture or age of Revolv® brand HVAC Systems.
The industry average service design life for most forced air furnaces is 15-20 years, and the industry average service design life for most air conditioning condensing units is 10-15 years. The average service design life of boilers can vary from as little as 10 years to as many as 50 years depending on the type and quality of materials used in their manufacture. Routine upkeep/maintenance, regional weather/climate, and location/placement of the mechanical systems will all play critical roles in the longevity of these systems.
See also: Estimated Useful Service Life Expectancies
Parent Company: Style Crest Inc. (stylecrestinc.com)
Subsidiaries or other related brands: Revolv® brand products include split-system condensers, indoor coils, furnaces, line sets, coil cabinets, packaged units, and accessories exclusively for manufactured housing. Style Crest also distributes the line of SmartComfort™ products made by Carrier®, and used exclusively in Clayton® Homes manufactured since 2019.
The date of production/manufacture or age of Revolv brand HVAC equipment can be determined from the serial number and/or MFG Date located on the rating data plate.
Example serial number styles/formats found:
Style 1:    RPF

20

10

001137 with MFG. Date

2020

-

10
Legend:  Year is RED;  Month is GREEN; Week is BLUE
Style 1:   RPF2010001137 with MFG. Date 2020-10

Year of manufacture can be determined by using the 4th & 5th positions of the serial number

Month of manufacture can be determined by using the 6th & 7th positions of the serial number

The MFG. Date is also typically included on the data plate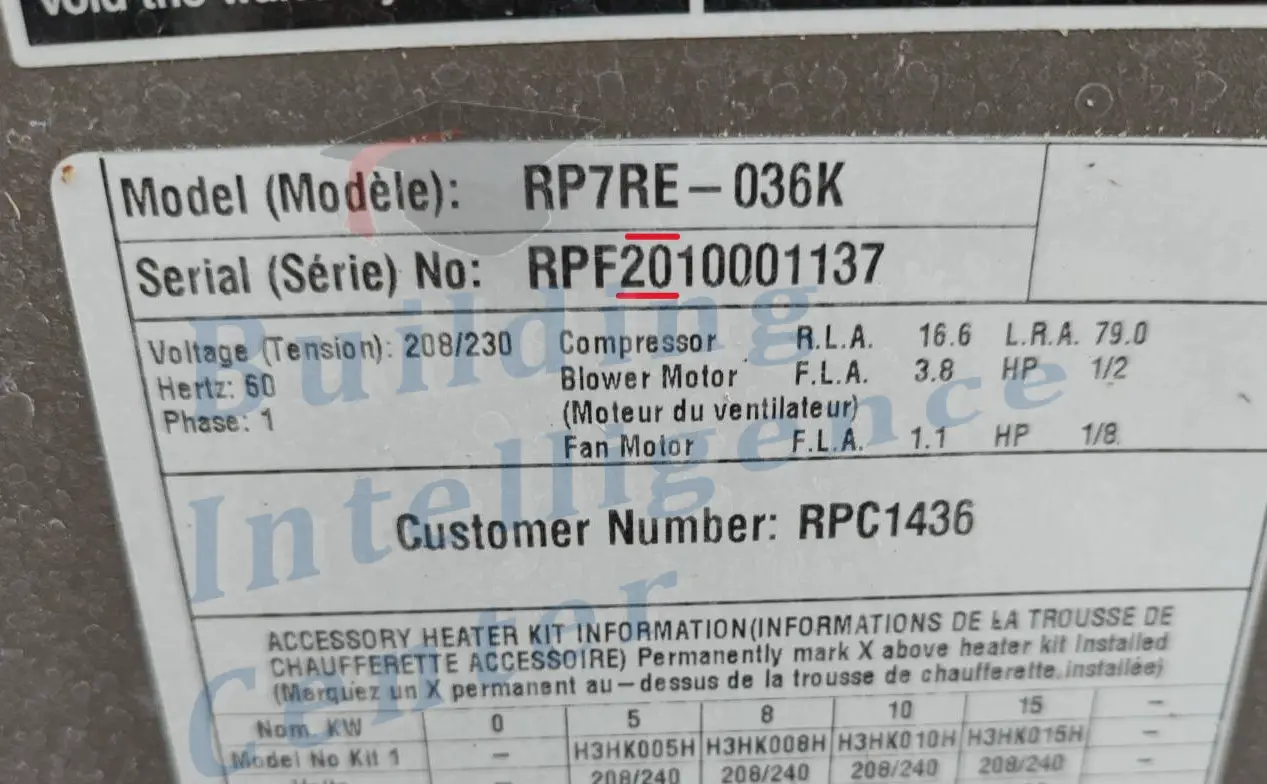 1967 - Tom Kern and Eric Haas develop first fiberglass entry steps and foam kitchen cabinet doors (coated to resemble wood) for manufactured housing
1970 - Business formally started. Style Crest name created and associated with fiberglass steps. Poly-Foam name created and associated to the kitchen cabinet doors.
1979 - Style Crest carried or produced over 4000 products. Expands truck fleet with creation of PFI Transport to cover the Midwest, East Coast, and South
1981 - Style Crest acquires Anchor-Sur® Products, the primary anchoring system of the manufactured housing market.
1983 - Begins production of vinyl skirting as an alternative to aluminum foundation skirting.
1986 - New division, GMH Enterprises, opened in Fremont, Ohio with a focus on real estate investment, development, building, and leasing warehouses
1992 - Creates Resource Materials Corporation which manufactures RMC Vinyl Siding
2000 - Style Crest headquarters relocated to Fremont, Ohio
2001 - Style Crest Sales was created to support sales of  Coleman® brand (subsidiary of York) HVAC equipment for the manufactured housing industry
2006 - Poly Foam International, Inc. officially changed its name to Style Crest Enterprises, Inc. and consolidates several of its nine divisions under this new name.
2011 - Style Crest unifies its line of HVAC products under the Revolv® Brand, exclusively designed and tested to work together for manufactured housing
1- History excerpts from https://www.stylecrestinc.com/about-us-2/history/
Every effort is undertaken to offer you correct and concise information to assist you in determining the age or manufacture date of HVAC/R equipment. Users relying on this information do so at their own risk.
Page last updated: 09/07/2023