AAF® (American Air Filter®) HVAC age
How to determine the date of production/manufacture or age of AAF ® and AAF-McQuay® brand HVAC Systems.
The date of production/manufacture or age of AAF brand HVAC equipment can be determined from the serial number located on the data plate.
Note: Traditional heating and cooling systems no longer manufactured under AAF or AAF-McQuay brand names.
Parent Company: AAF International and AAF-Flanders, a subsidiary company of Daikin Industries.
Example serial number styles/formats found:
Style 1:    AUB U 08 05 00386
Style 2:     55A1234501
Style 3:     5PB1234503
Style 1:    AUB U
08

05

00386
Year of manufacture is 5th & 6th characters combined.
Week of manufacture is 7th & 8th characters combined.
This style was first introduced in 1999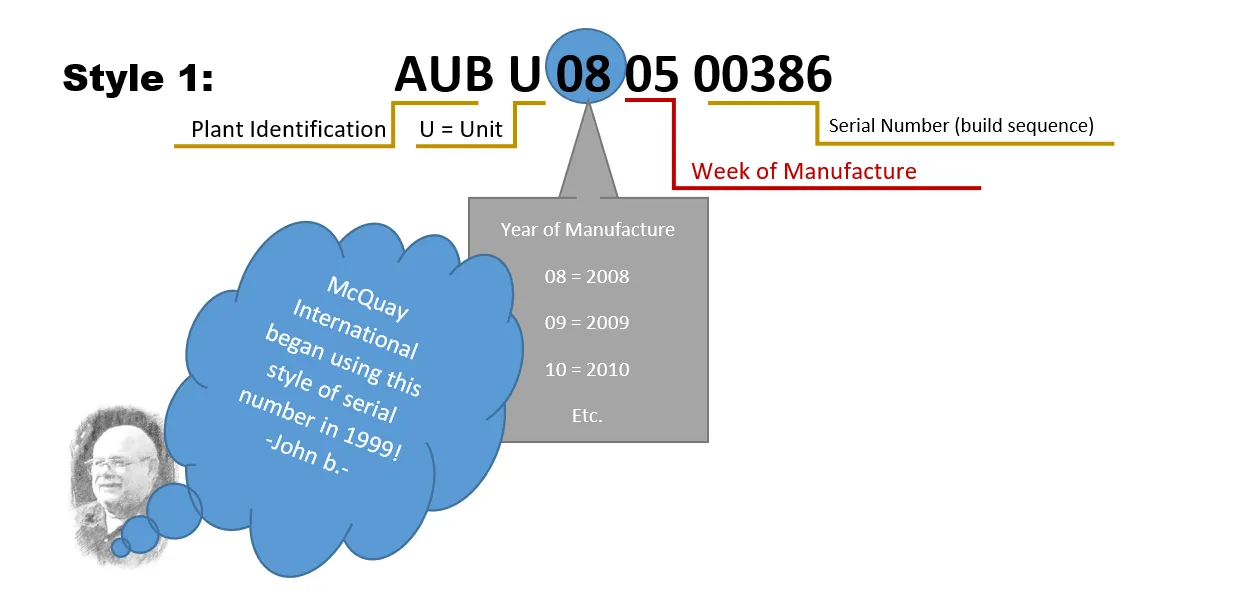 Year of manufacture is 2nd character.
Month of manufacture is 3rd character.
This style was used from 1995 to 1999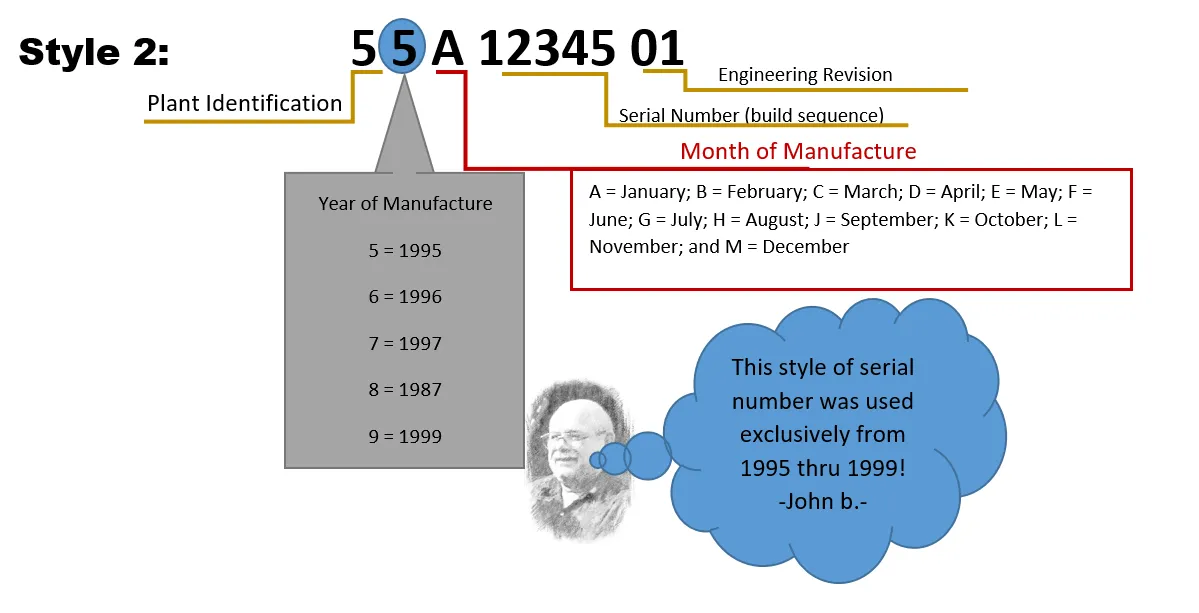 Year of manufacture is 2nd character.
Month of manufacture is 3rd character.
This style was used from 1971 to 1995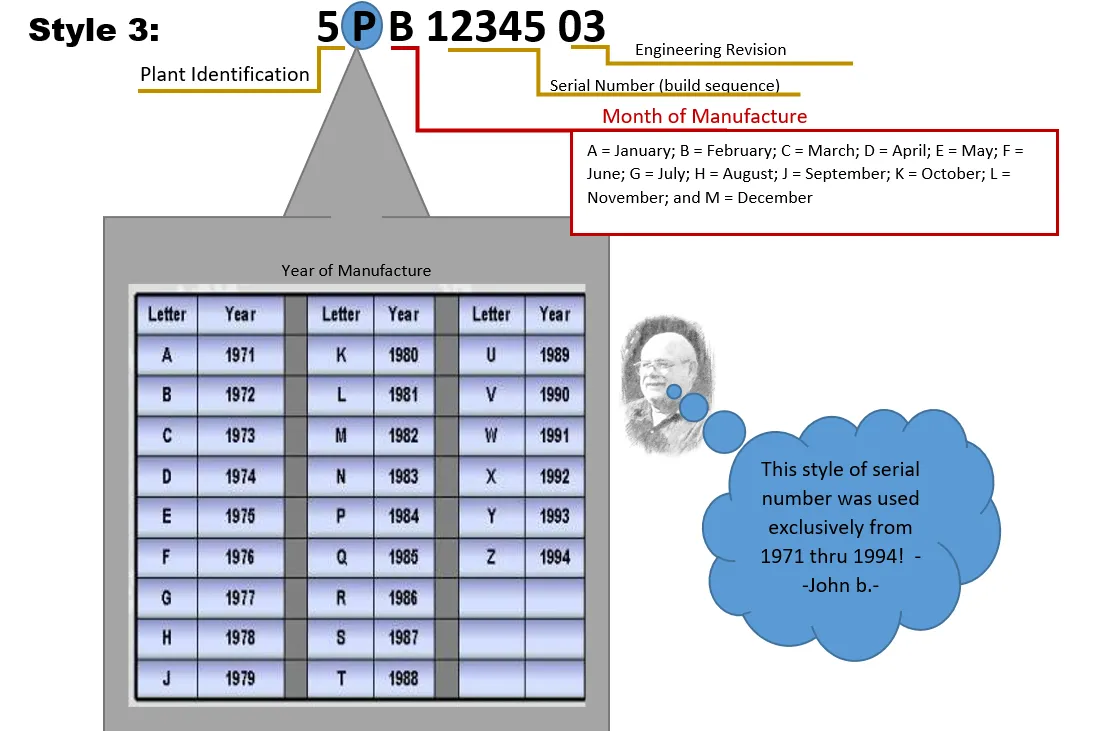 ---
Brand History:
1921 - Bill Reed, engineer and entrepreneur, painted automobiles in his workshop in Louisville, KY. Because he grew irritated with dust fouling his work, Reed inserted steel wool between two layers of chicken wire and into a wood frame, inventing what would become a game-changing air filter. Discovering that his invention was popular not only in the automotive industry but other settings as well, he founds Reed Air Filter Company which manufactures the first commercial air filter in Louisville, KY - The Reed air filter.
1924 - Company establishes its first offices and manufacturing plant in Louisville.
1929 - Reed Air Filter merges with 7 other air filter manufacturers to form American Air Filter Company, Inc -

 

AAF.
1935 - Fluorocarbon synthesis is developed by Daikin. Mass production begins in 1942
1950 -

 

AAF introduces fiberglass replacement filters to the residential market.
1961 -

 

AAF introduces the first bag-style filter
1963 -

 

AAF introduces the first modern high-efficiency box-style filter
1964 -

 

AAF makes the first HEPA filter
1966-1968 -

 

AAF opens plants and begins manufacturing filters in Europe .
1969 -

 

NASA Lunar Module uses AAF filters in Apollo 11 mission to the moon.
1970 -

 

AAF Asian headquarters established.

1988

-

 

SnyderGeneral a

cquires 

American Air Filter (AAF)

, an air filtration equipment manufacturer now with 27 international production facilities and sales coming from more than 100 countries.

1991

-

 

Economic conditions hinder financial growth of the company. With global economic recession in full swing, SnyderGeneral sets its eyes on international markets to serve as the prime area for growth. SnyderGeneral subsequently sells 

Comfortmaker

 and 

Arcoaire

 brand lines to Inter-City Products, retains AAF and McQuay brands.

1994

-

 

The remainder of SnyderGeneral operations are sold to Hong Leong Group Malaysia, which is partially comprised of O.Y.L. Industries Berhad, a manufacturer of residential and light commercial HVAC equipment. SnyderGeneral is renamed 

"AAF-Mcquay Incorporated"

 and divided into two major companies: 

"AAF International" 

and 

"McQuay International". 

AAF International was based in Louisville, KY and manufactured air filtration products and systems including commercial, industrial, and residential air filters, as well as air pollution control products, machinery filtration, and acoustical systems. McQuay International was based in Minneapolis, MN where it designed, manufactured, marketed, and serviced all HVAC systems and products formerly undertaken by SnyderGeneral (with exception to the Arcoaire and Comfortmaker brands previously sold to Inter-City Products). McQuay International sold its products under various brand names, including Wesper, JennFan, Barry Blower, and AAF (commercial and institutional HVAC equipment).

2006

-

 

McQuay International and AAF International were acquired by Daikin Industries, a global manufacturer of both commercial and residential air conditioning equipment based in Osaka, Japan. AAF becomes member of Daikin Group.

2013

-

 

Daikin dropped the McQuay name, ending 80 years of business for the name. AAF International remains a subsidiary to Daikin.

2016 -

 

AAF Acquires Dinair Group AB to form one of the strongest networks within Europe's filtration industry.

2016

- AAF International acquires Flanders Corp. (Flanders Holdings LLC) another leading filter manufacturer in the U.S., and forms new company subsidiary as

 

"AAF Flanders". Daikin Industries Ltd. remains parent company of AAF Flanders and AAF International. AAF Flanders manufactures HVAC filters and air purification products for the residential, commercial, and industrial market segments. AAF International remains focused on Energy/Power and Industrial air quality applications, and similar industrial filtration applications.
2017 -

 

AAF acquires RIS Facility Management GmbH, a leading provider of Indoor Air Quality services in Germany.
Page last updated: 08/07/2023