Addison Products Company (APCO)®
How to determine the date of production/manufacture or age of Addison® HVAC Systems.
The date of production/manufacture or age of a Addison Products Company® HVAC unit can be determined from the serial number.
History

(important information to assist in determining age of manufacture)

:
Addison Products Company (APCO) was started in 1949. In 1988, Addison Products sold the residential "WeatherKing" brand line to Rheem Mfg.
In December 1995, Addison Products was acquired by Heat Controller. The new company was called "Addison Products Co., a division of Heat Controller Inc." This company was later acquired in 2004 by Fedders and the name changed to Fedders Addison Co., becoming a new business unit under Fedders Commercial HVAC.  Based on this information, any product with a data tag bearing solely the name "Addison Products Company" or "APCO"  will have been manufactured prior to December of 1995. Between this date and 2004, Addison data plates will  indicate the unit to be a division of Heat Controller or manufactured by/for Heat Controller, and typically utilize Heat Controller serial number styles. 
Upon Fedders' bankruptcy circa 2008, the assets under the Fedders umbrella were sold and acquired by various entities. Airwell Group, a subsidiary of Elco Holdings Ltd. purchased the residential HVAC business which included Fedders, Air Temp, and Emerson Quiet Kool brands.
Roberts-Gordon LLC (maker of commercial infrared heating systems) purchased the Fedders Addison Co. subsidiary. Addison is currently manufactured as specialty commercial and industrial HVAC equipment under the Addison brand name which (along with Roberts-Gordon) is now a subsidiary of Specified Air Solutions. After 2008, Addison data plates on these commercial units should reference "Specified Air Solutions" and/or "Roberts-Gordan" as the parent company.
Serial number styles found: 
(NOTE:  Serial Number styles found for Fedders-Airwell are being used here.  Although unconfirmed it is believed that all Fedders-Airwell units use these styles.)

Style 1: EW020144126H

Style 2:  02J-60002

Style 3:  AS298488006X

Style 4:  ARM75812

Style 5:  12345AN
Style 1:   EW020144126H
Week of manufacture is 3rd-4th characters
Year of manufacture is 5th-6th characters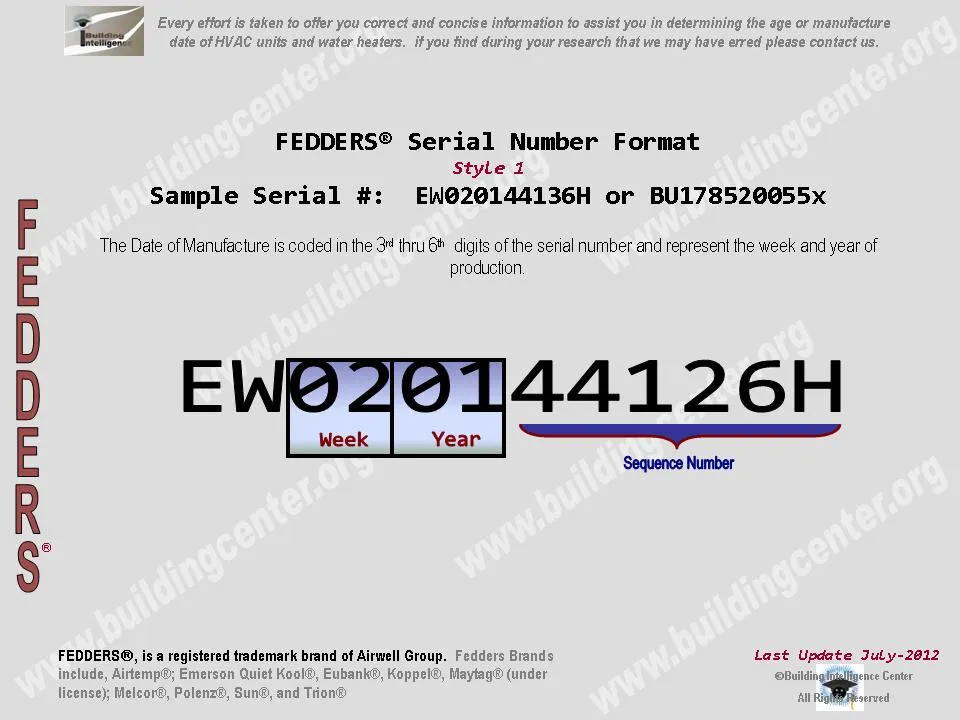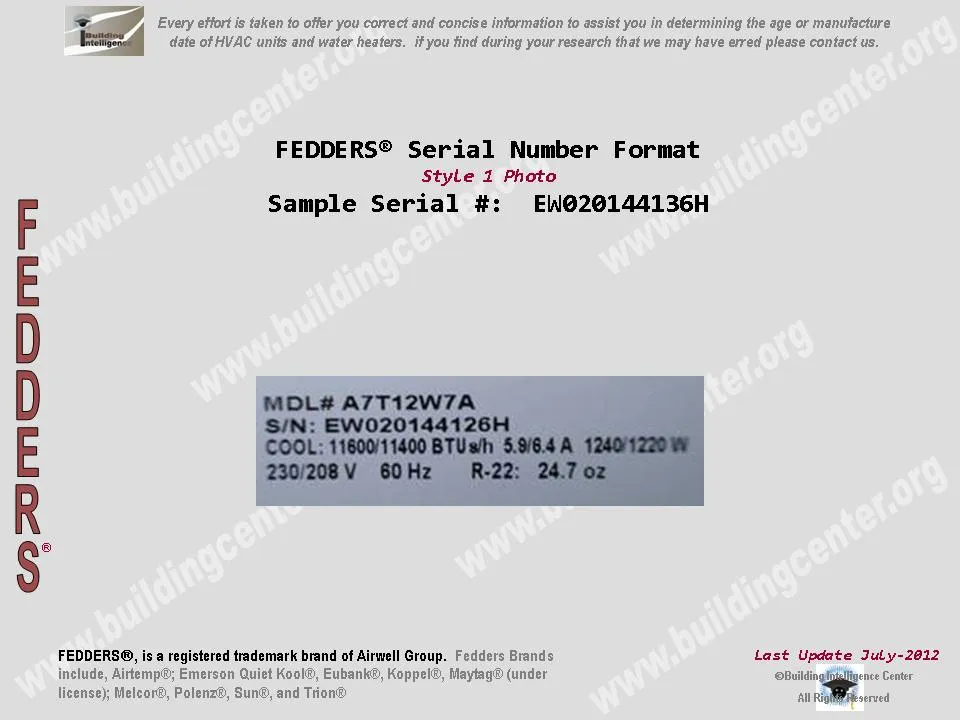 Style 2:  
02J

-60002
Year of manufacture is 1st-2nd characters
Month of manufacture is 3rd character (see chart)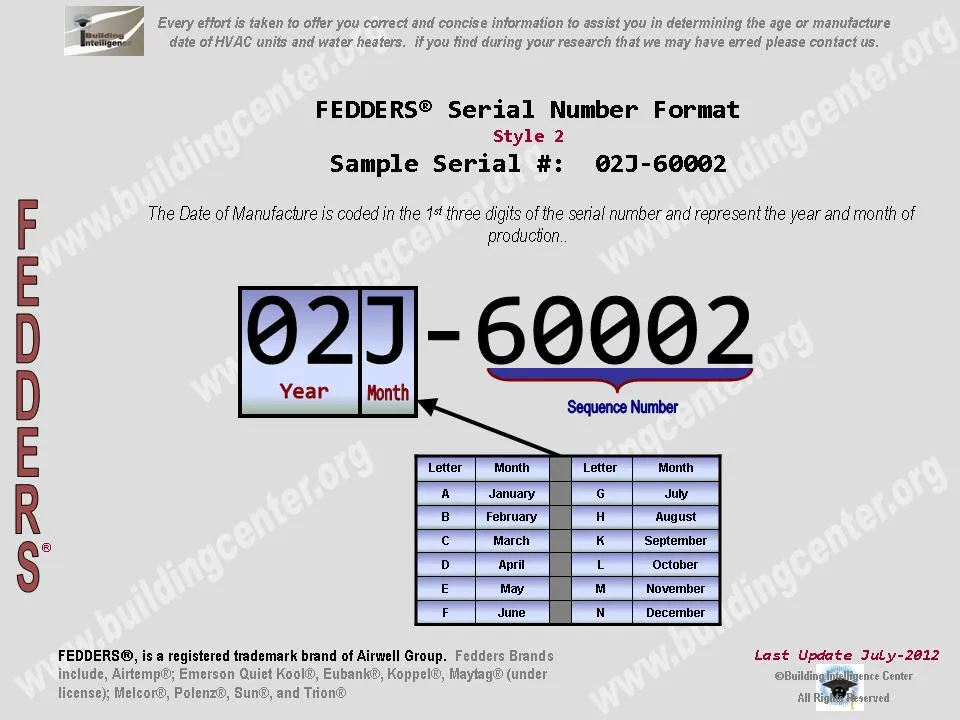 Style 3:  
AS

298488006X
Month of manufacture is 1st character (see chart)
Year of manufacture is 2nd characters (see chart)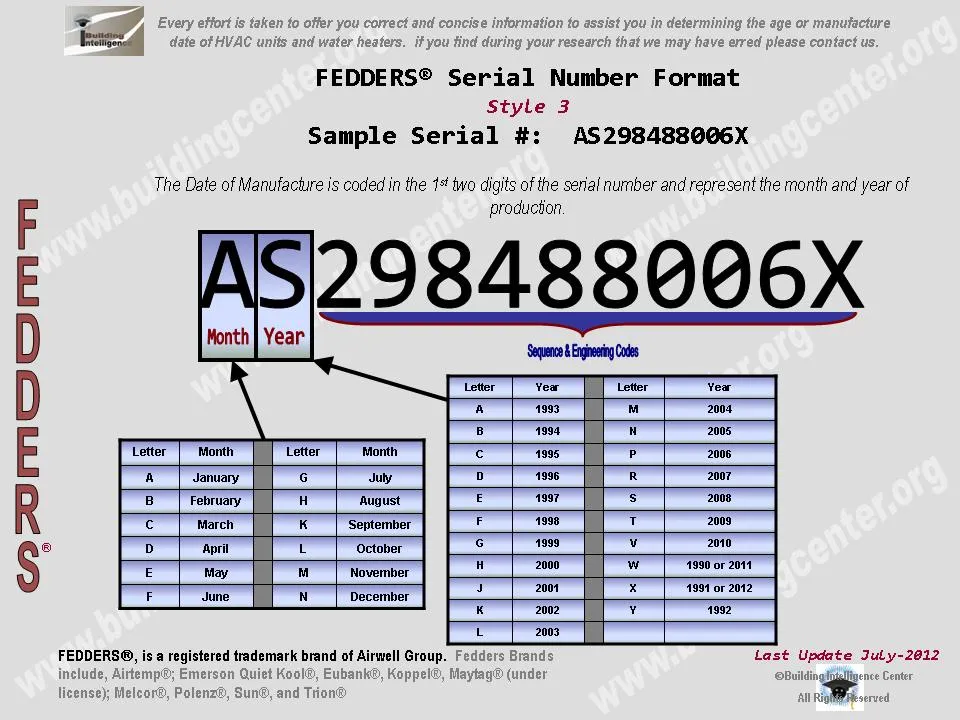 Style 4:  
AR

M75812
Month of manufacture is 1st character (see chart)
Year of manufacture is 2nd characters (see chart)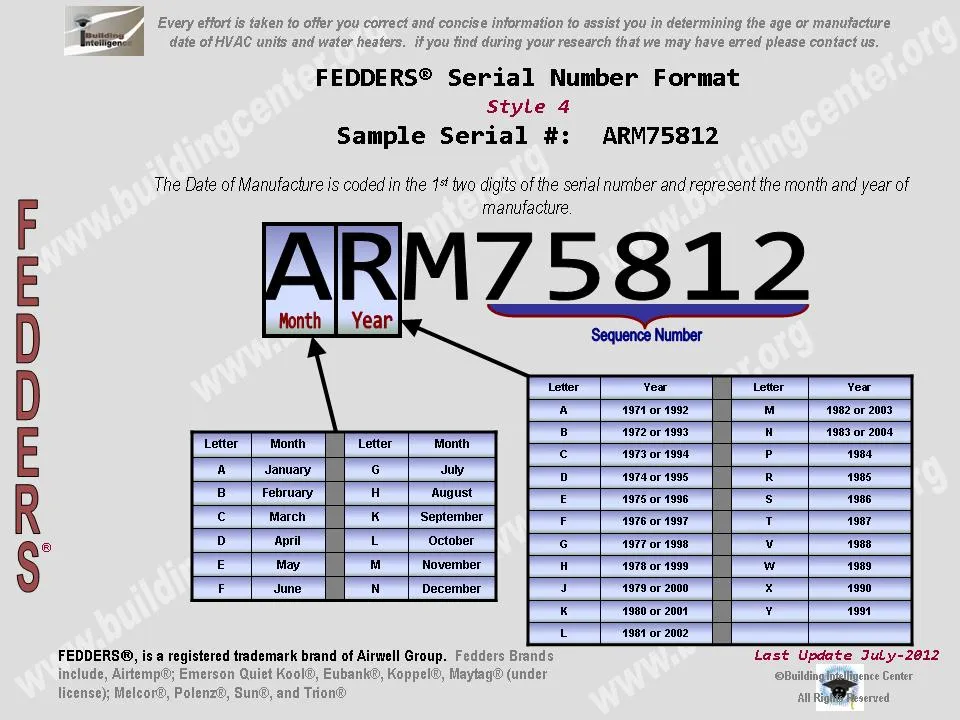 Style 5:   12345
AN
Month of manufacture is 2nd to last character (see chart)
Year of manufacture is last character (see chart)
Page last updated: 01/03/2020